NAEKO ARMCHAIR PARADISOTERRESTRE EDITION
Loading …
Enquire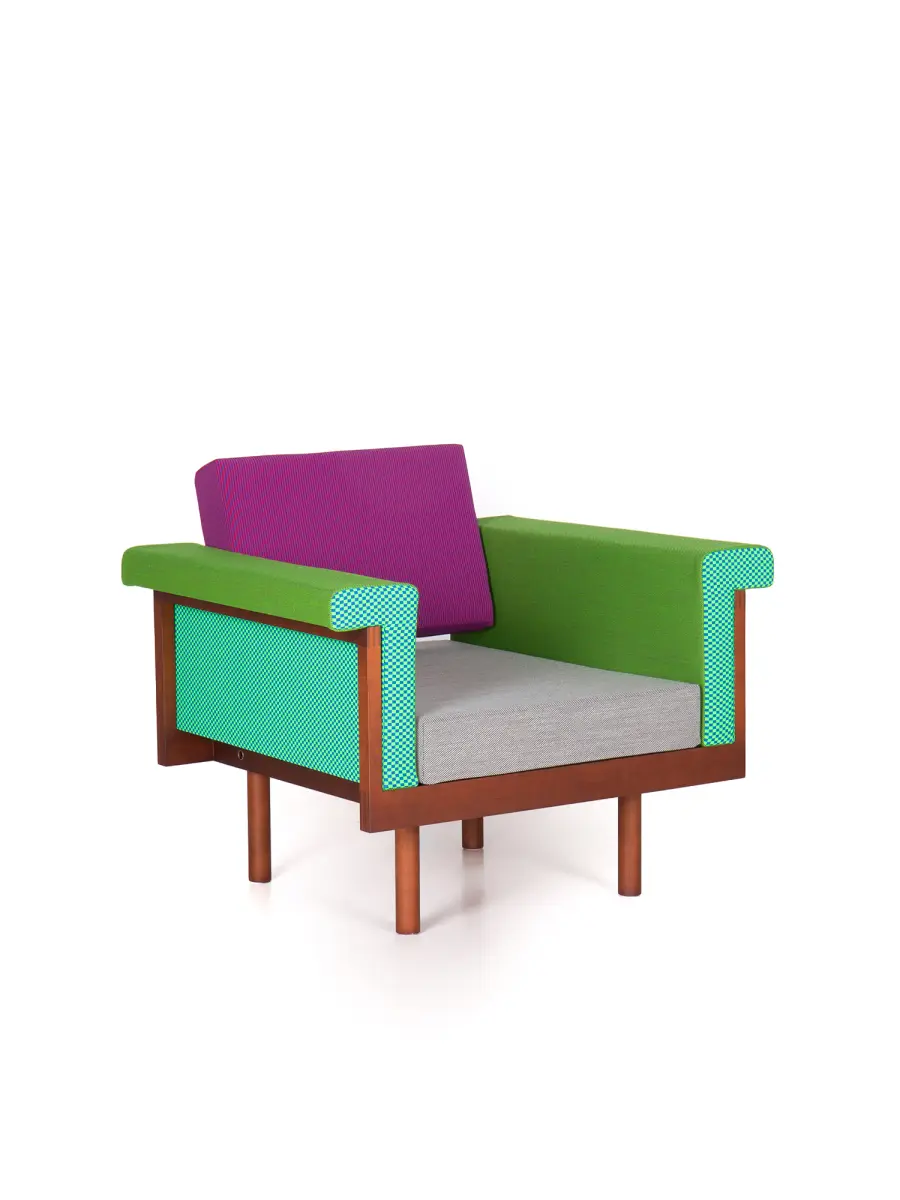 A special edition by fashion designer Kiko Kostadinov of Naeko armchair designed by Kazuhide Takahama, a wonderful project that the Japanese architect dedicated to "Naeko", who later became his wife.
Continuing in Takahama's tradition, Kostadinov upholsters Naeko armchair with fabrics that pull inspiration from his future wife Deanna Fanning, and the patterns used in Deanna's, and her sister and design partner Laura's, graduate collection.
Kostadinov's signature aesthetic is a perfect complement to the rigorous structures typical of Takahama's work.
This is the wooden version of a project developed when Kazuhide Takahama was in Italy to set up the Japanese pavilion at XI Triennale in Milan, 1956/57. On that occasion he met Dino Gavina, with whom he began a life long collaboration and friendship.
The first version of Naeko was produced in metal by Gavina spa, designed as a daily-bed thanks to its completely reclining backrest. It was immediately a great success, so that it was proposed also in a more valuable version in wood in 1958, exclusively as sofa with fixed backrest. In the same wooden version an armchair was also produced.
Materials:
cherry-wood structure
brass finishes, polyurethane foam padding
upholstery in jacquard fabrics designed by Kiko Kostadinov
wool-blend Kvadrat fabrics
Dimensions:
| Measure | Width | Depth | Height |
| --- | --- | --- | --- |
| cm | 86 | 74 | 73 |
| in | 33,9 | 29 | 28,7 |
UK VAT tax is deducted automatically at checkout. Local duties and taxes will be customer responsibility. ALL SALES ARE FINAL.